Let's Get Back to Work!
Quickly Protect ANY Surface with Anti-Microbial Film that Instantly Neutralizes and Prevents the Spread of ANY Micro-Organism
Without Having to Constantly Worry About Cleaning High-Touch Surfaces.
---
---
Finally, a way to protect virtually ANY surface from bacteria and viruses WITHOUT constant cleaning.
What is Contact Anti-Microbial Film?
And How Can You Use it to Protect Against Any Micro-Organisms?
Contact AMF is a translucent film that you can apply to virtually any surface to protect and prevent from micro-organisms like bacteria and viruses.
If you have lots of high-touch surfaces that need constant cleaning, Contact AMF is for you.
If you want to guarantee a safe, clean environment for your employees and customers, Contact AMF is for you.
Contact AMF incorporates the properties of copper within the film to resist growth of micro-organisms on its surface for long lasting performance. Copper has been used for its antimicrobial properties for centuries, in a vast array of uses from plumbing to healthcare. The process involves the release of copper ions (electrically charged particles) when microbes are introduced to the surface from either airborne sources or direct contact. The copper ions prevent cell respiration and disrupt the cell membrane, thus inhibiting their growth.
Understand more about Copper Films and How it Works: Informational PDF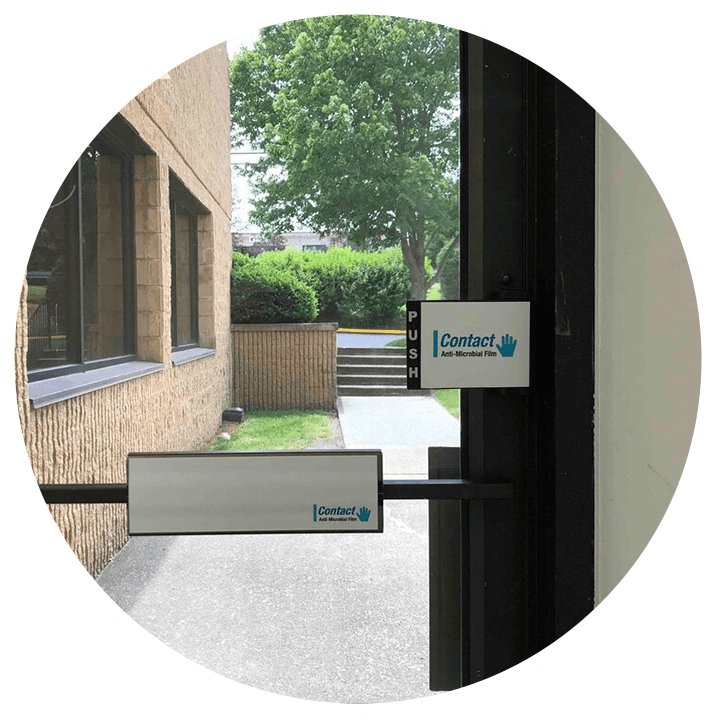 Contact Anti-Microbial Film FAQs
---
Where can Contact Anti-Microbial Film be Installed?

---

Tablet Screen Protectors
Kitchenettes
Bathroom Surfaces
Tables
Desk Tops
Door Handle Wraps
Glass Doors and Windows
Push-Pull Signage
Elevator Button Covers
High Traffic Surfaces
Corporate Branded Media
Facility Signage Packages
Frequently Replaced Media like menus, TV guides, door safety seals, and more.
And virtually ANYWHERE else!

---
---
---
Who is Contact Anti-Microbial Film For?

---

Hospital & Medical Buildings
Commercial Interiors
Office Buildings
Hotels and Resorts
Restaurants, Bars, and Cafes
Grocery Stores, Retail Stores, and Malls
Schools
Banks
Travel and Transportation
Gyms and Spas
Movie Theaters
Casinos
Amusement Parks
Stadiums and Concert Venues
And so many more!

---
---
---
Contact AMF is designed for anyone to easily apply and use right away:
Simple to Apply to Any Surface
Easily Removable with No Residue
Customizable with Your Brand and Message
Long Lasting
Easy Maintenance and Cleaning
---
Best of All, with Contact Anti-Microbial Film you can Guarantee:
Peace of Mind | Enure Safe Practices | Protection
Demand is Extremely High! Get Your Anti-Microbial Film Fast!
See the Uses and Benefits of Contact AMF Film: Presentation PDF 

---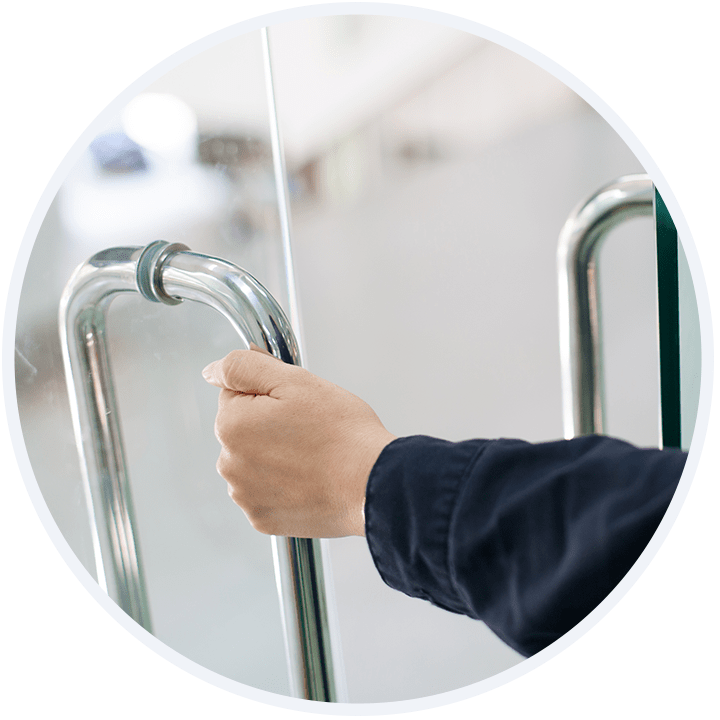 *EPA required statement: Laboratory testing shows that, when cleaned regularly, antimicrobial copper surfaces kill greater than 99.9% of the following bacteria within 2 hours of exposure: MRSA, VRE, Staphylococcus aureus, Enterobacter aerogenes, Pseudomonas aeruginosa, and E. coli O157:H7. Antimicrobial copper surfaces are a supplement to and not a substitute for standard infection control practices and have been shown to reduce microbial contamination, but do not necessarily prevent cross contamination or infections; users must continue to follow all current infection control practices.